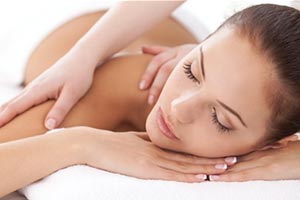 Mini Facial (30 mins.  $65.00)
This facial is a quick fix facial for those who are on the go.  This facial is also a great introductory to skin care.  We will thoroughly cleanse and exfoliate your skin, a mask suited to your skin type will follow to nourish balance and protect your skin followed by a protective moisturizer.
Detoxifying Deep Cleanse (1 hour $95.00)
Refine pores, decongest and promote cell renewal with this deep cleaning facial.  Includes deep cleanse, active exfoliation to remove dead skin cells, hydrating steam, cleansing mask for smoother complexion with scalp massage and finish with a hydrating mist, eye cream and moisturizer.
Serum Therapy Facial (1.25 hour $105.00)
Designed specific to your skin type and condition, this facial combining intense serums and corrective ingredients, whether it be fine lines, dehydration or congestion.  This ultra hydrating facial consists  of cleanse, exfoliation, hydrating steam, face neck and shoulder massage with intense serums.   An active mask is then applied followed by hydrating mist, serums, eye cream and moisturizer.
Ultra Restore Peel (1 hour $110.00)
Using high potency lactic and glycolic acids for an intensive peel, your skin will look bright, feel fresh and be highly moisturized.  This facial is great for those who require fantastic results in minimum time, treating signs of ageing, pigmentation, acne and sallow skin.
Eye Contour Treatment (30 mins $70.00)
This is a 'pick me up' treatment for the eyes alone, concentrating on relieving fine lines and puffiness around the eyes.  Intense serums are used to hydrate and revive the skin and gentle massage is used to sooth, followed with eye cream to complete this treatment.
Diamond Microdermabrasion (1 hour $120.00)
If your looking for a fast, reliable treatment for skin tissues like fine lines, pigmentation, acne scarring, uneven skin tone or just a tired sallow looking skin, then this is the facial for you.  This is a non-invasive treatment with no down time.  Using the microdermabrasion tip, the dead skin cells are exfoliated and vacuumed off the skin.  With the use of different suction levels, it also increases blood flow to the skin and in turn helps to produce collagen, leaving you with a beautiful glowing complexion.
Age Smart (1.5 hour $150.00)
Concerned about the signs of aging on your skin, then this treatment is for you.  Combined lactic and glycolic acid deeply exfoliates the skin while Dermalogica's specialized contour mask enables greater product absorption which makes this the ultimate in skin therapy for prematurely aging skin.  Benefits include firmer, smoother and a revived feel to the skin.
Clinical Dermal Needling (1.25 hour $255.00)
This treatment is performed with an electric pen device to trigger growth signals to skin cells, which over time, promotes collagen and elastin production and deposition.  This in turn results in improved skin texture with less scarring and wrinkling, perfect for mature and sun damaged skin, scarring and hyper pigmentation.
Facial Treatments
Mini Facial (30 mins) $65
Detoxifying Deep Cleanse (1hr) $95
Serum Therapy (1¼ hrs) $105
Ultra Restore Peel – Lactic & Glycolic acid (1 hr) $110
Eye Contour Treatment (30 mins) $70
Diamond Microdermabrasion (1hr) $120
Age Smart (1½ hrs) $150
Skin Needling (1¼ hrs) $255
---
Waxing
Brow $15
Lip/Chin/Cheeks/Nostrils each $12
Facial Wax $35
Half Leg Wax $30
Three Quarter Leg Wax $35
Full Leg Wax $40
Bikini Wax from $20
G-String Wax from $35
Brazilian Wax $55
½ Leg & Bikini Wax $45
Full Leg & Bikini Wax $55
Half Arm Wax $30
Full Arm Wax $35
Under Arm Wax $20
Men Chest/Back Wax $55
Men Arm $45
Men Leg $60
---
Tinting
Brow Tint $12
Lash Tint $20
Eye Treatment $30
HANDS & FEET
Manicure (Including polish) $50
Pedicure (Including polish) $65
French Polish add $10
File & Polish $30
Nail Cut & File $20
Change Polish $15
Shellac File & Polish $55
Shellac Manicure $70
Shellac French Polish add $10
Remove Shellac, File & Buff $35
---
Massage
Back, Neck & Shoulders (30 mins) $60
Full Body (1hr) $95
---
Body Treatments
Purifying Back Treatment (1hr) $75
Full Body Polish (1hr) $95
Detoxifying Body Wrap (1hr) $125
---
Make-Up
Light Make-up $40
Special Occasion $55
Trial Make-up $30
---
Electrolysis
10 minute Treatment $35
15 minute Treatment $45
20 minute Treatment $50
30 minute Treatment $55
---
Ear Piercing
Ear piercing (incl. 1 Stud) $30
Ear piercing (incl. 2 Studs) $40
---
Cosmetic Tattooing
Beauty Spots $100
Lower Lid Eyeline $350
Upper Lid Eyeline $350
Full Lip Line $400
Full Brow $395
Touch Ups (from) $250
(Includes touch-up within 6-8 weeks)
---
Air Brushed Tanning
Full Body $30
½ Body $20
---
Proud users and stockists of dermalogica® skin care and natural compatibles make-up.
Gift certificates are available throughout the year for all treatments.