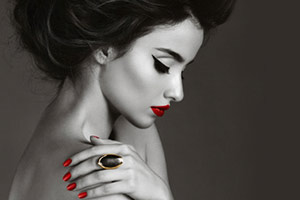 ELECTROLYSIS
Electrolysis is a long term solution to unwanted hair on the face and body. A fine needle is inserted into the hair shaft and a small electric current is passed down the needle to kill the root of the hair so it does not grow back with the same force. After 4-6 treatments the hair just gives up and completely dies leaving the skin hairless long term
COSMETIC TATTOOING
What is Cosmetic Tattooing?
Cosmetic tattooing also known as micro-pigmentation is the process in which pigments are inserted within the dermis layer of the skin.  This safe and effective treatment gives instant results that are long lasting.  This time period is anywhere between three to five years.  Eventually the enhancement will gently fade away at which point a touch-up may be needed.
Who will benefit from Cosmetic Tattooing?
Absolutely all ages will benefit from this treatment.  For those who are active, sweating and smudging will be a problem of the past, those who lead busy lifestyles and time poor and people who suffer from allergies, oily skin, poor eye sight and unsteady hands.
Are there any after or side effects?
Generally there is some swelling and tenderness immediately after the treatment that may last between twenty four and seventy two hours..  Slight scabbing may also occur which is a natural process of healing.  The colour may appear darker than desired for the first five to ten days.  During this healing process excess pigment will come away with any scabbing and the final result will be soft and natural.
Is there any discomfort Involved?
The sensation can vary for each person according to their pain threshold.  The use of topical anesthetics before and during treatment significantly reduces any pain making this treatment much more comfortable.
TOP AND BOTTOM EYELINER AND EYEBROWS
Eyebrow Enhancement
Enhancing the eyebrows suits those whose brows have become sparse or are fine in colour.
Eyeliner
This treatment will give the appearance of thicker and darker lashes as well as opening up the eyes.  A fine line can be created which gives a gently appearance where as a thicker line will be much more distinctive.
Beauty Spot
For an exotic look, a beauty spot can be created.
After care instructions?
After your treatment you will be supplied with a detailed list of care instructions –some general guidelines relating to the healing process for the optimum results. During this period of time it is essential no to pick at any scabbing that may take place. No makeup or cleaners are to be used in the treated area for the first five to ten days and to avoid salt or chlorinated water as this may have a bleaching effect.
FEATHER TOUCH BROW TATTOO
Transform sparse brows, depending on your needs brows can be subtly coloured or completely remodelled as each individual hair stroke is carefully etched and coloured by hand mimicking real brow hair.