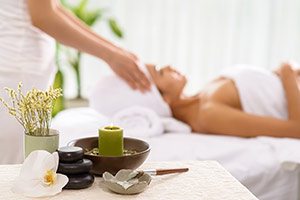 What is skin needling?
Skin needling is a procedure that involves using a Derma Pen (a device which  causes multiple microscopic  puncture wounds to the dermis), causing the body's natural wound healing response to stimulate collagen and elastin production. There are different sizes of Derma Pens which are suited for at home use and salon professional use. The home use Derma Pens may give very slight discomfort around sensitive areas such as the top of the lip.
However this size pen is extremely well tolerated. A professional salon treatment device  uses a different size pen using slightly larger needles; this treatment usually requires topical numbing cream.
What skin's can have this treatment?
The Derma Pen is safe to use on all skin types and all skin colours. It is particularly suited to those with acne scarring, lines and wrinkles, sun   damaged skin, loss of tone including elasticity and volume.
Your skin therapist will be able to provide more information.
How many professional treatments will I need?
 We recommend you start with four treatments and the number of treatments required after the initial four will depend on the individual's response. Treatments should be 4-8 weeks apart.
In what ways will my skin benefit?
Skin texture improves and fine lines are visibly reduced.
Increase in collagen and elastin fibres.
Reduction in pore size.
Over-production of sebum is reduced.
Normalization of melanin production.
Thickens and improves the appearance of thin, crepey skin
Reduces scarring such as acne, chicken pox and surgical scarring
Improves the appearance of stretch marks
These results will be greatly enhanced with the use of products such as Ultraderm Skin Renew Serum and Skin  Renew Cream with Apple Stem Cells.